Awakening Mindfulness and Compassion: a collaboration with UCLA Mindful Awareness Research Center (MARC)
With Diana Winston, Leslie Booker, Marvin G. Belzer and Lissa Edmond (movement)
September 28 - October 3, 2023
A Five-Night Silent Meditation Retreat
Thursday, September 28th – Tuesday October, 3rd
registration closes Sunday Sept 24th at 11:59pm Pacific Time
A collaboration with UCLA Mindful Awareness Research Center (MARC)

Join MARC faculty for our first ever five-night silent retreat in the beautiful natural setting of the Big Bear Retreat Center, only two and a half hours from Los Angeles. We will spend our days deepening our meditation practice in the service of cultivating wisdom and compassion needed to transfer out to our lives.  As we settle our minds, supported by nature, we can see ourselves and the world with deeper clarity and allow our inner wisdom to emerge. 
The retreat will include sitting and walking meditation with ongoing guidance, lecture and instruction from the teachers. We will also have an opportunity to practice cultivating positive emotions, mindful speaking and listening, mindful eating, as well as experience the depth of stillness that can come through an extended period of practice. Daily movement practice will be led during this retreat. 
This silent retreat is suitable for beginning or experienced students. It meets the requirements for the MARC IPP and TMF programs.
Cost
(includes meals, lodging, tuition, and teacher compensation):

*No dana for this retreat is expected*
Single room with private bath– $2500
Single room with shared bath-$1850
Double room with shared bath– $1400
**Our Work Exchange and Scholarship options are currently FULL. Click here to join the waitlist.** 
Retreat Schedule:
Sept 28: 2-4pm Registration and Arrivals
Oct 3: 12pm Checkout and Retreat Closing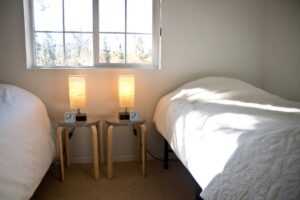 Accommodations:
The Center consists of several single-story buildings and cabins for dining, meditation and sleeping. Our residence cabins are large furnished and comfortable with 3-4 bedrooms and 2 bathrooms, living rooms, a full kitchen and decks outside in nature for shared use. Our residential cabins and rooms are simply furnished with a balance of comfort and simplicity. All beds are twin, and all bedding is provided by the center.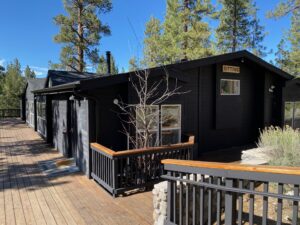 The Meditation Hall:
Our beautiful meditation hall is a large room that accommodates most meditation and movement retreats. We have supplies for most participants, but guests are always welcome to bring their own supplies (not required). Guests can typically expect to have access to a zabutan (large cushion), zafu (small cushion), yoga mat, blocks, a meditation chair, a blanket and a selection of other yoga and meditation props with limited supplies. If you're unsure, please contact us or visit our welcome guide for more details.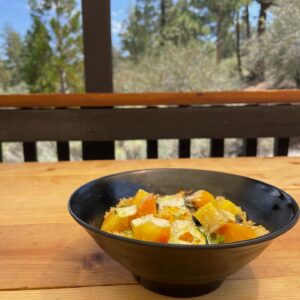 Meals:
The Center provides fresh, healthy meals made with seasonal and organic ingredients to support a nourishing time in retreat. Meals begin with dinner on arrival evening through to breakfast on departure morning. For this retreat, meals will be offered to support meditation retreat practice with a simple medium breakfast, hearty lunch, and light dinner (typically soup and salad). All meals will be vegetarian, and we accommodate most major dietary restrictions. Snacks will be available in the dining hall 24/7, including teas and coffees. The Center has refrigerators in the cabins and dining area for guests to store their own snacks – please bring any foods that might support your time here.
Daily Volunteer Service Meditation: This retreat will include a daily volunteer meditation service period, or "yogi jobs", around 30-minutes a day for all participants. This is an opportunity to practice in service of community and bring your practice into daily roles at the center. More details and a sign up sheet will be shared at registration.
Rideshare: For this retreat we have set up a self-organized rideshare page that you can visit at anytime before. We will send email reminders closer to the retreat. We encourage ridesharing when possible. https://www.groupcarpool.com/t/ugzv8o
Covid Policies: For this retreat we are requiring a rapid test on arrival day. Masking and vaccines are optional.
Guests are asked, when possible, to bring their own rapid tests or test before travel on arrival day. Tests will be available at center for those that did not bring.
For any questions please contact guestservices@bigbearretreatcenter.org or visit our website bigbearretreatcenter.org
Cancellation Policy: Please visit our website for more on the cancellation policy for this retreat- bigbearretreatcenter.org/cancellation-policy
> 8 weeks   $100
4-8 weeks   $175
2-4 weeks   $300
<2 weeks    No Refunds
Teachers & Facilitators