Winter Independent Individual and Group Retreats (December 15-20)
Flexible Dates
Your Retreat, Your Pace at Big Bear Retreat Center
Friday December 15th – Wednesday December 20th
*arrival dates are Dec 15h, 16th & 17th ONLY
*pick your departure date
registration closes December 7th at 11:59pm Pacific Time
Join us during these dates for an option to retreat on your own or in a small group or team. 

We are thrilled to re-introduce independent solo retreats. Book time for yourself or your small group at the retreat center with light programming. 
This is a great option if you want to experience some time in nature and your version of retreat at the center. Take time for quiet alone time, to write, work on art, or be on retreat with loved ones or friends. This time is minimally structured, allowing for self-paced retreats at the center.
This is also a great time to gather as a team with your organization. For these retreats, we require that you arrive on December 15th-17th, with flexible departure days/times. More details below.
*stay tuned as we begin to offer more independent options such as these!
Cost:

*retreat fees include accommodations, meals, access to center public spaces, and light programming*
Single room with private bath $380/night
Single room with shared bath $290/night
Double room with shared bath $160/night (per person)*

Entire Cabin (3 bedrooms, 2 bathrooms): inquire for more information
Are you looking to book an entire cabin for yourself or group? Please contact us for more details and availability.
Schedule:
Dec 15-17: 1-4pm Registration and Arrivals
*Checkout is available anytime on your departure day. 
*Please note the last meal on your departure is breakfast, unless you have indicated differently at registration and paid ahead of time.
Daily Schedule
8:00 – 8:45am Morning Meditation
9:00am Breakfast
10-11:30am Daily Hike
12:30pm Lunch
*1:00-4:00pm* Arrivals + Check-in (Dec 15, 16 & 17 only)
3:00-4:00 Outdoor or Indoor Mindfulness Activity
*4:30-5:15 Welcome Walk/Hike (Sept 14th & 15th only)
5:30pm Dinner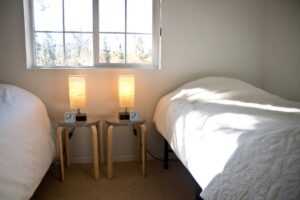 Accommodations:
The Center consists of several single-story buildings and cabins for dining, meditation and sleeping. Our residence cabins are large furnished and comfortable with 3-4 bedrooms and 2 bathrooms, living rooms, a full kitchen and decks outside in nature for shared use. Our residential cabins and rooms are simply furnished with a balance of comfort and simplicity. All beds are twin, and all bedding is provided by the center.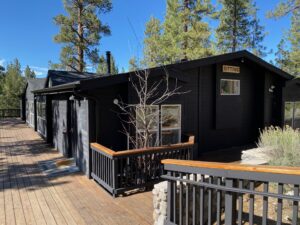 The Meditation Hall:
Our beautiful meditation hall is a large room that accommodates most meditation and movement retreats. We have supplies for most participants, but guests are always welcome to bring their own supplies (not required). Guests can typically expect to have access to a zabutan (large cushion), zafu (small cushion), yoga mat, blocks, a meditation chair, a blanket and a selection of other yoga and meditation props with limited supplies. If you're unsure, please contact us or visit our welcome guide for more details.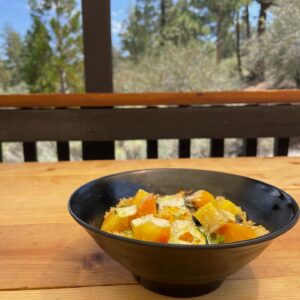 Meals:
The Center provides fresh, healthy meals made with seasonal and organic ingredients to support a nourishing time in retreat. Meals begin with dinner on arrival evening through to breakfast on departure morning. For this retreat, meals will be offered to support meditation retreat practice with a simple medium breakfast, hearty lunch, and light dinner (typically soup and salad). All meals will be vegetarian, and we accommodate most major dietary restrictions. Snacks will be available in the dining hall 24/7, including teas and coffees. The Center has refrigerators in the cabins and dining area for guests to store their own snacks – please bring any foods that might support your time here.
Rideshare: For this retreat we have set up a self-organized rideshare page that you can visit at anytime before. We will send email reminders closer to the retreat. We encourage ridesharing when possible. https://www.groupcarpool.com/t/76uehd
Covid Policies: For this retreat we are requiring a rapid test on arrival day. Masking and vaccines are optional.
Guests are asked, when possible, to bring their own rapid tests or test before travel on arrival day. Tests will be available at center for those that did not bring.
For any questions please contact guestservices@bigbearretreatcenter.org or visit our website bigbearretreatcenter.org
Cancellation Policy: Please visit our website for more on the cancellation policy for this retreat- bigbearretreatcenter.org/cancellation-policy
> 8 weeks   $100
4-8 weeks   $175
2-4 weeks   $300
<2 weeks    No Refunds