Embodying the Spirit of Ubuntu: A Somatic & Mindfulness Meditation Retreat For Women and Gender Expansive People of the African Diaspora
With Spring Washam and Prentis Hemphill
November 12 - 18, 2023
A Six-Night Silent Insight Meditation Retreat
Sunday, November 12th – Saturday, November 18th
registration closes Sunday November 5th at 11:59pm Pacific Time
*this is a retreat for women and gender expansive people of the African diaspora*

We are excited to offer this very special healing retreat for all self-identified women of African Ancestry and of the Diaspora. During this retreat we will create a safe container where we can experience connection, compassion and unconditional loving support.
By bending deep embodiment/ somatic work with mindfulness-based meditation practices we can re-learn how to come home to our hearts, rest in our bodies and become truly present for one another.
The word Ubuntu is translated as, "I am because we are" and it's the spirit of this gathering and a core theme we will weave throughout the retreat. For some, Ubuntu is something akin to a soul force. It is a direct expression of unity, honor and interconnectedness with one another. Ubuntu derives from Nguni and Bantu languages of Africa and in Zulu language of South Africa the word symbolizes being human. 
This retreat will be primarily held in "noble silence" outside of the scheduled group work, dharma talks, guided meditations and interactive sessions. Each day will include a full schedule of sitting and walking meditation practice, training in the four foundations of mindfulness, yoga, talks on the core themes, sacred music and deep embodiment work. 
The kind of change we are after is cellular as well as institutional, is personal and intimate, is collective as well as cultural. We are making love synonymous with justice.

– Prentis Hemphill
Cost:

*retreat fees include full teacher payments: no additional dana-donations*
Single room with private bath $2,850
Single room with shared bath $2,370
Double room with shared bath $1,530
Triple room with shared bath $1,230
Financial support: In addition, we have available options for those needing financial support. A limited number of pay-what-you-can (dana-based) options are available. We ask that these be prioritized for those that identify as marginalized communities. Contact us for more information. 
Retreat Schedule:
Nov 12: 2-4pm Registration and Arrivals
Nov 18: 11am/12pm Retreat Closing and Checkout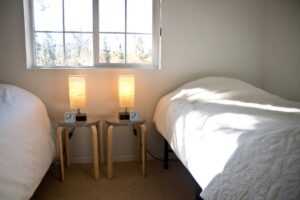 Accommodations:
The Center consists of several single-story buildings and cabins for dining, meditation and sleeping. Our residence cabins are large furnished and comfortable with 3-4 bedrooms and 2 bathrooms, living rooms, a full kitchen and decks outside in nature for shared use. Our residential cabins and rooms are simply furnished with a balance of comfort and simplicity. All beds are twin, and all bedding is provided by the center.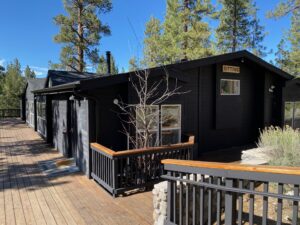 The Meditation Hall:
Our beautiful meditation hall is a large room that accommodates most meditation and movement retreats. We have supplies for most participants, but guests are always welcome to bring their own supplies (not required). Guests can typically expect to have access to a zabutan (large cushion), zafu (small cushion), yoga mat, blocks, a meditation chair, a blanket and a selection of other yoga and meditation props with limited supplies. If you're unsure, please contact us or visit our welcome guide for more details.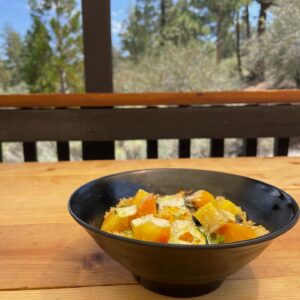 Meals:
The Center provides fresh, healthy meals made with seasonal and organic ingredients to support a nourishing time in retreat. Meals begin with dinner on arrival evening through to breakfast on departure morning. For this retreat, meals will be offered to support meditation retreat practice with a simple medium breakfast, hearty lunch, and light dinner (typically soup and salad). All meals will be vegetarian, and we accommodate most major dietary restrictions. Snacks will be available in the dining hall 24/7, including teas and coffees. The Center has refrigerators in the cabins and dining area for guests to store their own snacks – please bring any foods that might support your time here.
Teacher Payment: for this retreat is included in registration fees and fully covered.
Work Meditation: This retreat will include a daily work meditation service period, or "yogi jobs", around 30-minutes a day. This is an opportunity to practice in service of community and bring your practice into daily roles at the center. More details and a sign up sheet will be shared at registration.
Rideshare: For this retreat we have set up a self-organized rideshare page that you can visit at anytime before. We will send email reminders closer to the retreat. We encourage ridesharing when possible. https://www.groupcarpool.com/t/0mivbn
Covid Policies: For this retreat we are requiring a rapid test on arrival day. Masking and vaccines are optional.
Guests are asked, when possible, to bring their own rapid tests or test before travel on arrival day. Tests will be available at center for those that did not bring.
For any questions please contact guestservices@bigbearretreatcenter.org or visit our website bigbearretreatcenter.org
Cancellation Policy: Please visit our website for more on the cancellation policy for this retreat- bigbearretreatcenter.org/cancellation-policy
> 8 weeks   $100
4-8 weeks   $175
2-4 weeks   $300
<2 weeks    No Refunds
Teachers & Facilitators
Spring Washam
Considered a pioneer in bringing mindfulness-based meditation practices to diverse communities; Spring Washam is a well-known teacher, healer, and visionary leader based in Oakland, California. She is the author of A Fierce Heart: Finding Strength, Courage and Wisdom in Any Moment and The Spirit of Harriet Tubman: Awakening from the Underground. Spring is one of the founding teachers at the East Bay Meditation Center, an organization that offers Buddhist teachings with attention to social action and multiculturalism. She is a member of the teacher's council at Spirit Rock Meditation Center, offering teachings on Buddhist philosophy, Insight meditation and loving-kindness practices. Spring is also…
Learn more about Spring Washam
Prentis Hemphill
Prentis Hemphill (They/Them) is unearthing the connections between healing, community accountability and our most inspired visions for social transformation. Prentis is a therapist, somatics teacher and facilitator, political organizer, writer and the founder of The Embodiment Institute. For over 10 years, Prentis has been working with individuals and organizations during their most challenging moments of change; navigating leadership transitions, conflict, and realigning practice with values. All of this Prentis does through an embodied approach, ensuring that our intentions and ideas can be lived out and practiced in our lives and through our bodies. Before founding The Embodiment Institute, Prentis was…
Learn more about Prentis Hemphill