LGBTQI Meditation Retreat: Recognizing Yourself as Part of Nature: Buddhist Liberation Practices for the LGBTQI Community
With Anushka Fernandopulle and Shelly Graf
October 5 - 9, 2023
A Four-Night Silent Insight Meditation Retreat
Thursday, October 5th – Monday, October 9th
registration closes Wednesday Sept 28th at 11:59pm Pacific Time

If you self-identify as queer, intersex, transgender, genderqueer, bisexual, lesbian or gay, join us to explore practices of presence and freedom on this silent meditation retreat.
Stepping away from technology, entertainment, recreational drugs and alcohol will support us to cultivate wisdom and love. We will engage in contemplative practices of mindfulness and compassion as a community while sitting, walking, eating and in daily life activities. The retreat is supported by guided meditation, dharma talks, time for questions and small group meetings.
Note: If you have recently experienced a significant trauma or are having difficulty with psychological stability, silent intensive residential meditation retreat like this one is not recommended.
Cost:

*retreat fees do not include teacher dana-donations: more information below*
Single room with private bath $1,940
Single room with shared bath $1,620
Double room with shared bath $1,060
Triple room with shared bath $860
Financial support: In addition, we have available options for those needing financial support. A limited number of pay-what-you-can (dana-based) options are available. We ask that these be prioritized for those that identify as marginalized communities. Contact us for more information. 
Retreat Schedule:
Oct 5: 2-4pm Registration and Arrivals
Oct 9: 11am/12pm Retreat Closing and Checkout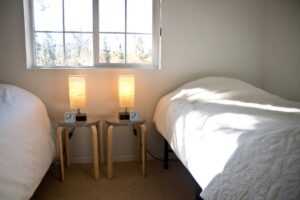 Accommodations:
The Center consists of several single-story buildings and cabins for dining, meditation and sleeping. Our residence cabins are large furnished and comfortable with 3-4 bedrooms and 2 bathrooms, living rooms, a full kitchen and decks outside in nature for shared use. Our residential cabins and rooms are simply furnished with a balance of comfort and simplicity. All beds are twin, and all bedding is provided by the center.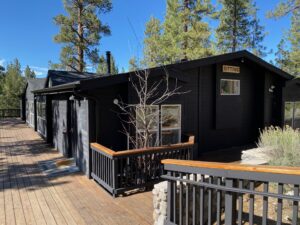 The Meditation Hall:
Our beautiful meditation hall is a large room that accommodates most meditation and movement retreats. We have supplies for most participants, but guests are always welcome to bring their own supplies (not required). Guests can typically expect to have access to a zabutan (large cushion), zafu (small cushion), yoga mat, blocks, a meditation chair, a blanket and a selection of other yoga and meditation props with limited supplies. If you're unsure, please contact us or visit our welcome guide for more details.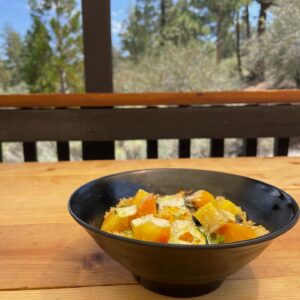 Meals:
The Center provides fresh, healthy meals made with seasonal and organic ingredients to support a nourishing time in retreat. Meals begin with dinner on arrival evening through to breakfast on departure morning. For this retreat, meals will be offered to support meditation retreat practice with a simple medium breakfast, hearty lunch, and light dinner (typically soup and salad). All meals will be vegetarian, and we accommodate most major dietary restrictions. Snacks will be available in the dining hall 24/7, including teas and coffees. The Center has refrigerators in the cabins and dining area for guests to store their own snacks – please bring any foods that might support your time here.
Teacher Dana: 
As part of the Buddhist tradition, many teachers (including the teachers of this retreat) offer the teachings freely with no expectations of fees or payment. As a practice of generosity from the heart, participants are invited to offer "dana" (donations-generosity) to the teachers at the end of the retreat. There are no minimums, expectations, or guidelines. It is not required. Teachers do not receive retreat fees, apart from travel reimbursement support. Learn more here about the practice of dana.
Work Meditation: This retreat will include a daily work meditation service period, or "yogi jobs", around 30-minutes a day. This is an opportunity to practice in service of community and bring your practice into daily roles at the center. More details and a sign up sheet will be shared at registration.
Rideshare: For this retreat we have set up a self-organized rideshare page that you can visit at anytime before. We will send email reminders closer to the retreat. We encourage ridesharing when possible. https://www.groupcarpool.com/t/86ekob
Covid Policies: For this retreat we are requiring a rapid test on arrival day. Masking and vaccines are optional.
Guests are asked, when possible, to bring their own rapid tests or test before travel on arrival day. Tests will be available at center for those that did not bring.
For any questions please contact guestservices@bigbearretreatcenter.org or visit our website bigbearretreatcenter.org
Cancellation Policy: Please visit our website for more on the cancellation policy for this retreat- bigbearretreatcenter.org/cancellation-policy
> 8 weeks   $100
4-8 weeks   $175
2-4 weeks   $300
<2 weeks    No Refunds
Teachers & Facilitators
Anushka Fernandopulle
I teach meditation, work as an organizational consultant,  and do leadership coaching with individuals and teams. I teach workshops and retreats around the globe in organizations, conferences and leadership programs. My work brings Eastern practices to Western modern life, making them accessible for individuals and organizations. I am interested in the synthesis of leadership, creativity and awareness, helping leaders to develop courage, clarity and compassion to make their vision come to life. My strategy consulting and coaching work is informed by a BA from Harvard, an MBA from Yale focused on leadership and organizational behavior, and certification in coaching from…
Learn more about Anushka Fernandopulle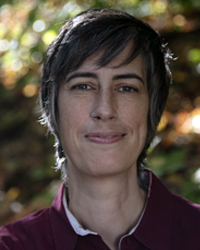 Shelly Graf
Shelly Graf has been practicing in the Insight Meditation tradition since 2003. They are a graduate of Insight Meditation Society's four-year teacher training program and currently serve as one of the Guiding Teachers at Common Ground Meditation Center in Minneapolis, MN. Shelly has an interest in integrating the teachings of the Buddha as deeply as possible into the fabric of our lives and as such, they have a special interest in waking up to whiteness as part of this total and fully integrated path of awakening. Whatever Shelly's role may be, they will always be a grateful student of Buddhist…
Learn more about Shelly Graf