An Invitation to Experience Big Bear Retreat Center
Flexible Dates
Tuesday, May 30th – Friday June 2, 2023
(any nights)

We invite those working in organized philanthropy to experience the retreat center, rest in wellness and co-create ideas.
Join us for a retreat to experience BBRC and share your input on our vision to explore ideas for future partnerships.
Book a complimentary private room in a shared cabin (option to bring guests)

The BBRC team has set up these few days for folks working in philanthropy to have a first-hand experience of this space, rest in wellness and co-create ideas on how this center may serve your grantees and partners. As a fellow philanthropist and supporter of mission-driven projects, I welcome your ideas as we continue to define and optimize our center. How might we partner to serve the communities and initiatives you support?  
We are inviting you to imagine and co-create with us – our center now employs about 10 staff, we are welcoming diverse groups every week to experience the sacred land of the Yuhaaviatam (or Serrano) peoples, and we are seeing first-hand the profound and transformational impact we and the natural land are having. It's a pivotal time in BBRC's growth and development – and the need for places like this has never been more pronounced or urgent. 
You're welcome to join for one, two or three nights of this gathering. Make it work for your schedule. Come for as much time as you can – because I know once you step foot in your peaceful cabin, taste the nourishing food, and walk the sacred land – you'll be glad you came. Your stay will include a private room, and 3 meals a day. You are welcome to invite a guest or two to share your room (limited triple rooms available). Having an embodied sense of what BBRC offers is the key purpose of this retreat.
I can think of no better way to spend a week than to take in the breathtaking beauty of BBRC. This is the place to learn how to truly appreciate life. Everyone I have encountered there has been nothing but kind and helpful. – Retreat Guest, May 2023
Retreat Details:

Tuesday, May 30th – Friday June 2, 2023
*please register at least 1 week in advance
Book a complimentary 1-3 night-stay

Private room with an option for guests to share your room (limited triple rooms available)

Check-in anytime after 2pm, Checkout 12pm
Your stay with us includes:
A private bedroom in a shared retreat cabin (up to 3-4 rooms), with wifi, a kitchen, living room, central heat, and a private deck in nature

Meals (dinner on arrival through to breakfast on departure, healthy freshly prepared, meat-options available)

Daily center guided wellness, mindfulness and dialogue activities
Retreat Schedule (tentative):
Our schedule for the retreat will likely include:
(everything is optional, but we would appreciate your participation in one of the Fireside Chats)
8am Morning Meditation and Mindful Movement (available for beginners)
9am Breakfast (self-service coffee and breakfast items available earlier)
11:30am Guided Hike exploring our trails and land
1pm Lunch
3pm "Fireside Chats" where we will explore the topics and questions noted above
6pm Dinner
8pm Relaxation Activity (i.e. Sound Bath, Restorative Yoga, etc)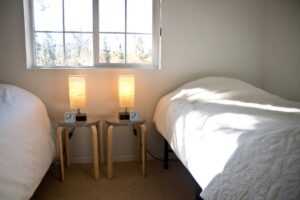 Accommodations:
The Center consists of several single-story buildings and cabins for dining, meditation and sleeping. Our residence cabins are large furnished and comfortable with 3-4 bedrooms and 2 bathrooms, living rooms, a full kitchen and decks outside in nature for shared use.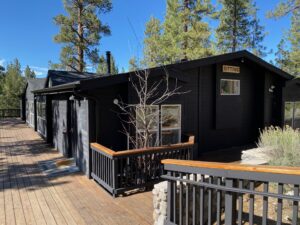 The Meditation Hall:
Our beautiful meditation hall is a large room that accommodates most meditation and movement retreats. We have supplies for most participants, but guests are always welcome to bring their own supplies (not required). Guests can typically expect to have access to a zabutan (large cushion), zafu (small cushion), yoga mat, blocks, a meditation chair, a blanket and a selection of other yoga and meditation props with limited supplies. If you're unsure, please contact us or visit our welcome guide for more details.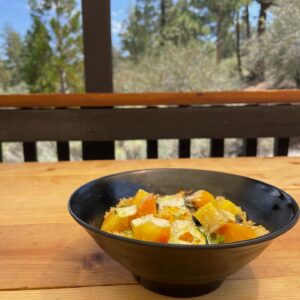 Meals:
The Center provides fresh, healthy meals made with seasonal and organic ingredients to support a nourishing time in retreat. Meals begin with dinner on arrival evening through to breakfast on departure morning. For this retreat, meals will be offered to support meditation retreat practice with a simple medium breakfast, hearty lunch, and light dinner (typically soup and salad). All meals will be vegetarian, and we accommodate most major dietary restrictions. Snacks will be available in the dining hall 24/7, including teas and coffees. The Center has refrigerators in the cabins and dining area for guests to store their own snacks – please bring any foods that might support your time here.
We look forward to hosting you soon!