Opening to Inner + Outer Change: A Life Balance Retreat
With Celeste Young and Ron Ames
April 25 - 28, 2024
A Workshop Retreat
This is designed to be a highly interactive workshop retreat format, not a silent insight meditation retreat. 
Thursday, April 25th – Saturday, April 28th 
Registration closes April 11th at 11:59pm Pacific Time

If you're considering a big change, are in the midst of one now, or are still feeling the effects of past changes, this unique retreat offers you the personal understanding and tools to open to the next phase of your life with clarity, confidence, joy, and deeper Insight.
Early registration is encouraged, as space is limited for this unique workshop retreat.
Come join us in the beautiful San Bernardino Mountains of Big Bear, CA and explore whatever internal or external life changes you might be considering, restoring balance to your life. We'll be together in community for short guided meditations, teachings and interactive exercises, healthy meals and plenty of downtime to enjoy the beauty of nature.
How well we navigate changes and transitions in our lives has a direct impact on the degree of well-being, purpose, and satisfaction we experience on a day-to-day basis.
Together in a supportive environment, we'll be learning principles about the nature of change, adult stages of development, as well as time-tested mindfulness practices that can help you move through times of change with more balance and clear intention. Throughout the retreat, you will be offered a series of highly effective self-assessments and tools from the Life Balance Institute that are designed to give you clarity about your specific situation and support you in moving towards your next steps. These tools have helped countless individuals step into greater alignment with what they truly care about in life- to connect with what is truly meaningful. In addition, each day we'll practice meditations together specifically designed to support you in meeting change more effectively and in coming home to yourself in daily life.
You will have the opportunity to:
Discover a "Path to Well-being" that is beyond getting what you want and getting rid of what you don't want in life.
Use the "Journey through Change" as a map to locate yourself in the process of your current change
Identify your values and intentions so you have a basis for making wise decisions.
Recognize habits of mind that undermine you and learn practices to disengage from their influence.
Explore which areas of your life need attention, gain insights about your strengths and challenges in dealing with change, and begin to strategize about next steps.
This work has had a deep impact on many Dharma and meditation students and offered them the tools to really bring their practice into the very structure of their life, restoring meaning and a sense of empowerment to live aligned with what truly matters in life.
Cost:

*retreat fees include teacher compensation
Single room with private bath $1730
Single room with shared bath $1490
Double room with shared bath $1080
Financial support: A limited number of financial support options are available. We ask that these be prioritized for those that identify as marginalized communities. Contact us at guestservices@bigbearretreatcenter.org for more information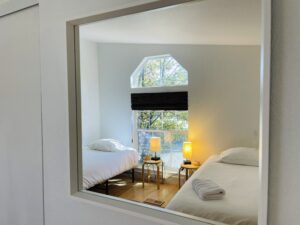 Accommodations:
The Center consists of several single-story buildings and cabins for dining, meditation and sleeping. Our residence cabins are large furnished and comfortable with 3-4 bedrooms and 2 bathrooms, living rooms, a full kitchen and decks outside in nature for shared use. Our residential cabins and rooms are simply furnished with a balance of comfort and simplicity. All beds are twin, and all bedding is provided by the center.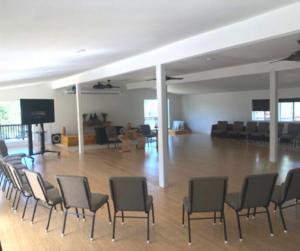 The Meditation Hall:
Our beautiful meditation hall is a large room that accommodates most meditation and movement retreats. We have supplies for most participants, but guests are always welcome to bring their own supplies (not required). Guests can typically expect to have access to a zabutan (large cushion), zafu (small cushion), yoga mat, blocks, a meditation chair, a blanket and a selection of other yoga and meditation props with limited supplies. If you're unsure, please contact us or visit our welcome guide for more details.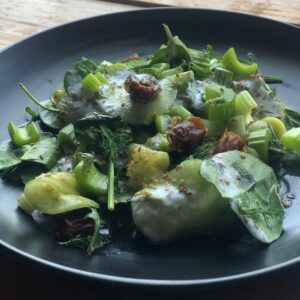 Covid Policies: For this retreat we are requiring a proof of a negative rapid test on arrival day for all yogis, teachers and staff. A re-test will be required on the third day by dinner. Masking and vaccines are optional.
Guests are asked, when possible, to bring their own rapid tests or test before travel on arrival day. Tests will be provided by the center by request only.
For any questions please contact guestservices@bigbearretreatcenter.org or visit our website bigbearretreatcenter.org
Cancellation Policy: Please visit our website for more on the cancellation policy for this retreat- bigbearretreatcenter.org/cancellation-policy
> 8 weeks   $100
4-8 weeks   $175
2-4 weeks   $300
<2 weeks    No Refunds
Scholarship and Financial Support Cancellation Fee Policy:
> 8 weeks   $75
4-8 weeks   $150
< 4 weeks   No Refunds
Teachers & Facilitators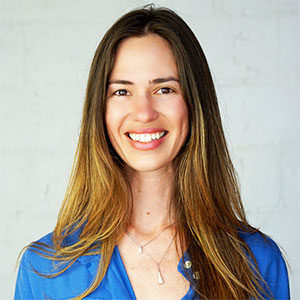 Celeste Young
Celeste Young is a Theravadin Buddhist mindfulness and Dharma teacher. She has been practicing meditation and sitting retreats since 2002. She was one of the first teachers to be empowered at InsightLA, a nonprofit Buddhist and secular mindfulness organization based in Los Angeles. Since 2011, Celeste has worked with thousands of meditation and Dharma students teaching Buddhist Dharma and mindfulness classes, leading silent meditation retreats, and working with individual students. She teaches both in the US and internationally. Additionally, she has led corporate sessions and retreats for organizations such as Netflix and the University of Southern California. For the last…
Learn more about Celeste Young
Ron Ames
Ron Ames is a film producer, a meditation teacher and a change and transition strategist. Ron graduated from UCLA's film school and went on to study with Lee Strasberg at the Actor's Studio and Strasberg Institute and Milton Katselas at The Beverly Hills Playhouse. Ron's early career focused on commercial production as an assistant director, producer, and director of national television commercials. Ron's feature film career started when he produced the visual effects and second unit action sequences for Martin Scorcese's The Aviator. Since then Ron has continued his career as a visual effects producer, post-production supervisor, and associate producer.…
Learn more about Ron Ames